by Hayden Dingman.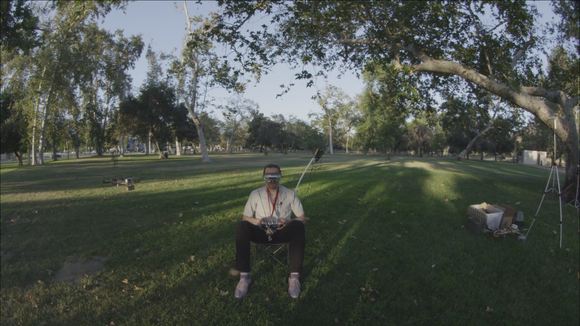 There isn't even a consumer-ready virtual reality headset on the market yet, but that isn't stopping a few filmmakers from thinking it's the future. One of the pioneers in the area is Condition One's Zero Point—a film that's as much a discussion of VR's potential as it is a showcase for new technology.
According to Condition One founder Danfung Dennis I was the first person outside the company to sit through the full twenty-minute version of Zero Point, which had me walking through the Electronic Entertainment Expo in Los Angeles, cowering in the midst of a military training exercise (with a full 360-degree image and head-tracking), and flying off a cliff attached to a drone.
I caught up with Dennis to ask him about some of the challenges associated with VR filmmaking—and they are numerous—to get an idea of what this new medium will look like five or ten years down the line. Read on for details on binaural microphones, sickness-inducing escalators, and the limitations of capturing a GB of data per second.
Read the rest of this article from Tech Hive.
Sign up now for your own FREE monthly subscription to "The Director's Chair" filmmaking ezine and get the first 41 pages of my 258 page Film Directing Multi-Media Online course, "The Art and Craft of the Director Audio Seminar."