by Jennifer Rankin.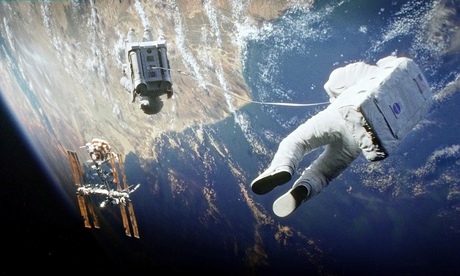 After picking up a galaxy of awards, the space thriller Gravity is tipped for further glory at the Oscars on Sunday. The film might look like classic big budget Hollywood, but has a starring role in the British film industry. Almost everything on screen, from the gorgeous images of light bouncing off the earth, the constellations of stars, down to the astronauts' space boots, was conjured up on computers at a studio in Soho. Stars George Clooney and Sandra Bullock filmed their space nightmare in deepest, darkest Buckinghamshire.
Tim Webber is the director of visual effects at Framestore, the studio behind Gravity's magical effects. Before he put Sandra Bullock in space, Webber created the rich worlds of Harry Potter and The Dark Knight. But Gravity was the most complex movie he had ever worked on. "Gravity was more of a giant leap than a small step," he says. "Everything about this movie was different to any movie any of us had ever worked on before."
Read the rest of this article from The Guardian.
Sign up now for your own FREE monthly subscription to "The Director's Chair" filmmaking ezine and get the first 41 pages of my 258 page Film Directing Multi-Media Online course, "The Art and Craft of the Director Audio Seminar."